Find The Best Hairstyle For Your Face Shape
Hair Styles For Your Face Shape At Anthony James In Halifax
Knowing your face shape is one of the most important factors when deciding what hair style you should choose. Not all on trend hair styles work with all face shapes, our expert hair stylists at the top hair salon in Halifax can let you know your face shapes and which hairstyle will work for you!
If you really want that on-trend hair style, our hairstylists will find a way to make that hairstyle work for your face shape, so book your consultation now.
Flattering Hair Styles Near Me
Halifax
Brighouse
Huddersfield
How Do I Know What My Face Shape Is?
Working out your face shape is quick and easy! Simply take a picture of yourself with your hair tied back, trace the outside of your face and compare to the images below. This will show you which shape your face most resembles.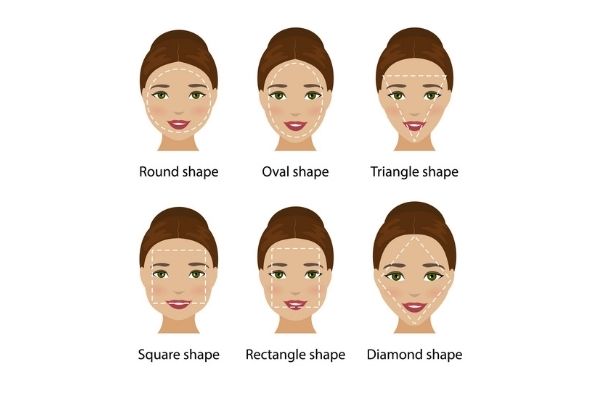 The Best Hair Style For All Face Shapes?
There is no one hair style that will fit all face shapes, or at least not one that we have found. However, our expert hair stylists in Halifax can adapt any hair style to fit your face shape by adding a fringe, layers or
Haircuts For Rounder Faces
Round face shapes tend to have similar width and length as well as prominent, rounded cheeks. Add definition and shape with long layers, or edgy pixie cuts for the most flattering hairstyles. Avoid full curls, long cuts with no layers and chin length hairstyles.
Haircuts For Rectangular Shaped Faces
If you have a rectangular face avoid straight, long hairstyles without layers or short fringes. Go for layered hair styles, cut to your cheekbones. Soft cut fringes or curtain bangs are most suited to rectangular faces and draw the eye from the bottom half of the face.
Hairstyles For Triangle Shaped Faces
As a triangle shaped face is traditionally wider at the jawline than at the forehead, we would recommend choppy pixie cuts and side swept fringes are flattering for triangle shaped faces, whilst bob haircuts should be avoided as they can make your jawline look wider.
Hairstyles For Oval Faces
Oval faces are well balanced and can suit a wide range of hairstyles, they look particularly great with short cropped hairstyles. Longer hairstyles with minimal layers or soft waves can highlight your features and bring out your cheekbones. A central parting will help to maintain the balance of your oval shaped face.
Hairstyles For Diamond Faces
Those with diamond shaped faces could opt for face softening layered, wavy hairstyles with a side parting. Balance a narrow jawline with a chin length bob or, if you often wear your hair up, a pulled back ponytail will flatter your face shape and enhance your cheekbones.
Hairstyles For Square Faces
As square-shaped face shapes usually feature a broad forehead, a strong jawline and wide cheekbones, a hair cut which softens your features is essential to compliment your bone structure. Opt for longer layered hairstyles and side swept fringes to draw away from your jawline and towards your cheekbones.
Haircuts For Heart Shaped Faces
If you have a heart-shaped face, you should choose a hairstyle which reduces the appearance of a wide brow and balances out the lower portion of your face. A side-parted pixie cut with textured ends can look fantastic on a heart shaped face, as can a longer bob haircut, which will ensure fullness around your jaw.
Medium length wavy hairstyles will also flatter a heart shaped face.
Book Your Appointment At Anthony James In Halifax
Visit us in Halifax and our expert hair stylists can create your perfect hair style that suits your face shape! Book online or call us on 01422 747001.